professional manufacturer of brass fittings & PEX-AL-PEX Multilayer pipes
1.Press fitting for connecting pex-al-pex pipe
2.Matetial:Forged brass,stainless steel sleeve
3.ISO9001,CE certified
4.OEM offered
Name:Press fitting- brass Male TEE for connecting pex-al-pex pipe.
We can supply all sizes of pipe fittings for connecting pex-al-pex pipe,pe-al-pe pipe,pex pipe, ect
Features and advantages of press fitting:
1) Material: Brass (contain 57% copper), Forged brass, stainless steel sleeve
2) Applications: Connecting for PEX-AL-PEX pipe
3) Produced with advanced forging technique
4) Perfectly sealed
5) Easy and convenient installation
6) Optimized structure
7) Full type of items
8) Good quality and best service
9)Specification:
T16*1/2M*16
T20*1/2M*20
T20*3/4M*20
T25*3/4M*25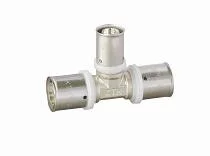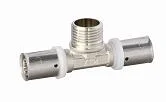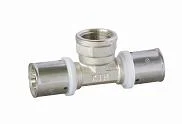 T25*1"M*25
Production step :
1) purchasing the material and forged the semi-products .
2) processing the semi-products in workshop .
3) assembling the goods .
4) testing the sealing in pressure and checking quality of the goods
5) package
6) delivering the goods on time