Compact Three-head Rotary Plasma Sputtering Coater with Vacuum Pump For Gold, Silver and Copper Coating
Introduction of Three target heads plasma sputtering coater with Rotating heating sample table:
This type of small plasma sputtering coating machine adopts two-stage sputtering method, which is widely used for SEM sample preparation or metal coating experiment. Using low-temperature plasma sputtering process, there is no high temperature during the coating process, and it is not easy to produce thermal damage. This small plasma sputtering coater uses PLC control system, all touch screen operation, easy to learn and use. This model machine is also equipped with a rotatable sample stage, which can effectively improve the uniformity of the coating. (This equipment is equipped with a rotatable heating sample stage, which can improve the uniformity of the coating and the adhesion of the film.) This small plasma sputtering instrument uses a PLC control system, all touch screen operation, easy to learn and use. The equipment is small in size and beautiful in appearance, making it the best choice for laboratory coating experiments.

Application of Three target heads plasma sputtering coater with Rotating heating sample table:
It can be used for metal sputter coating, especially for metal coatings such as gold, silver and copper.

Technical parameters of Three target heads plasma sputtering coater with Rotating heating sample table:
Sample stage

Size

100mm

Rotating speed

1~20rpm adjustable

Heating temperature

≤500ºC

Temperature control accuracy

±1ºC PID temperature control

Plasma sputtering source

Quantity

2 inches x3

Cooling method

Water cooling

Vacuum chamber

Chamber size

φ180mm x 210mm

Observation window

Omnidirectional visibility

Chamber material

High purity quartz

Open method

Top cover removable

Upper and lower cover material

304 stainless steel

Pumping port

KF16

Intake port

1/4 inch ferrule connector

Power configuration

Quantity

DC power supplyx1

Output power

Max. 150W

Sputtering power

1200V

Max. sputtering current

50mA

Vacuum system

Vacuum pump type

Dual-stage rotary vane vacuum pump

Pumping port

KF16

Exhaust interface

KF16

Pumping rate

1.1L/s(4m3/h)

Ultimate vacuum

≥0.1Pa

Vacuum measurement

Resistance vacuum gauge

Others

Power supply

AC 220V 50Hz

Total power

2kW

Dimension

500mm x 320mm x470mm

Weight

30kg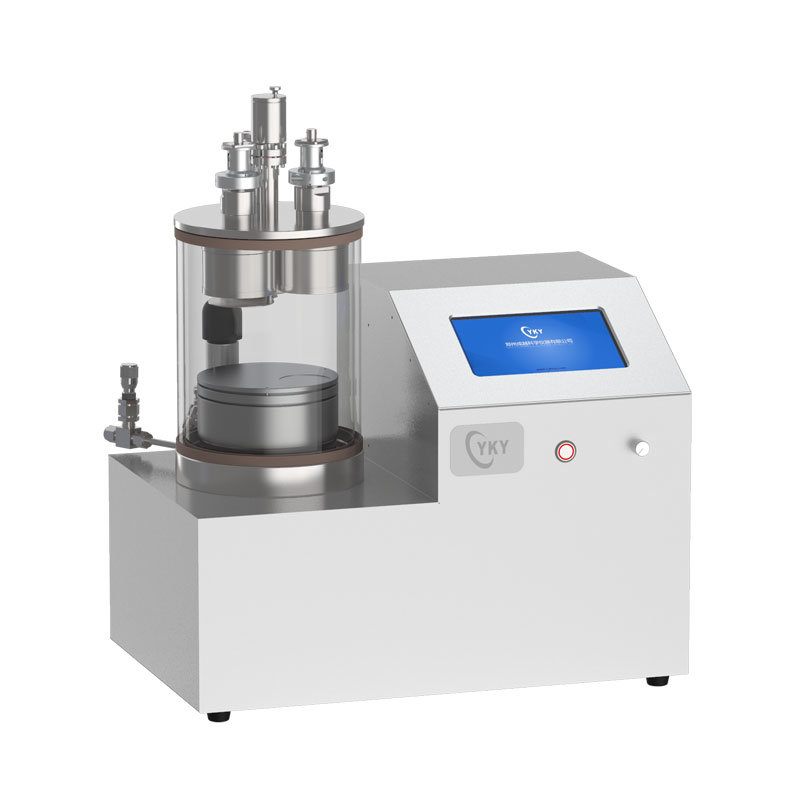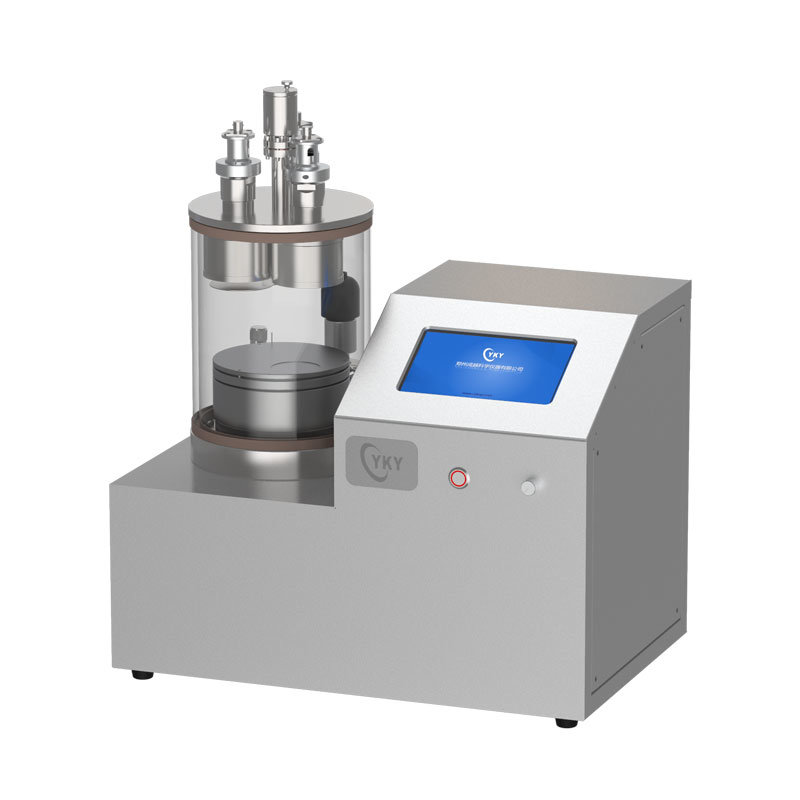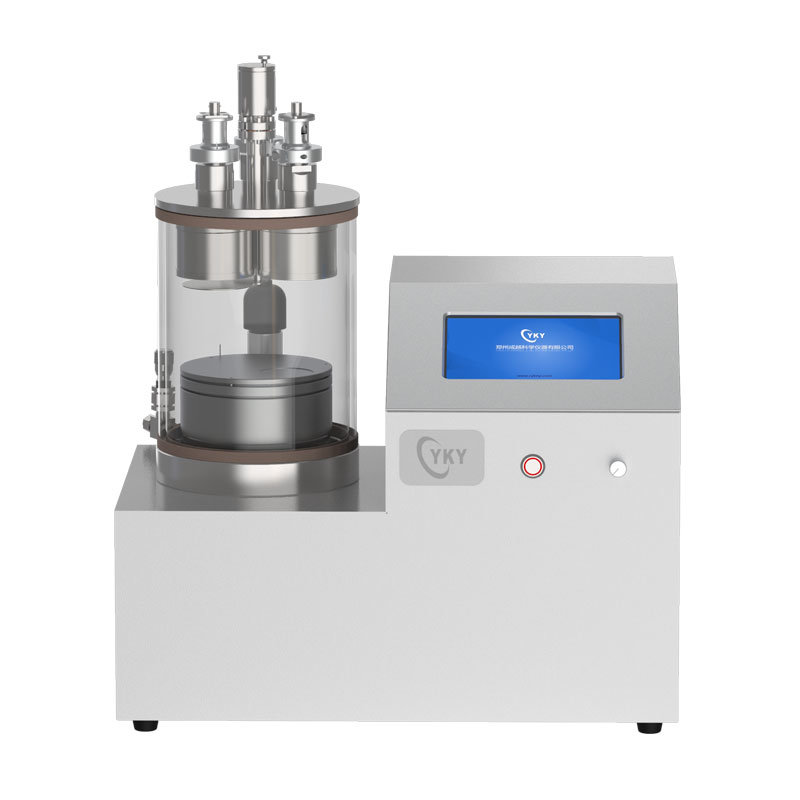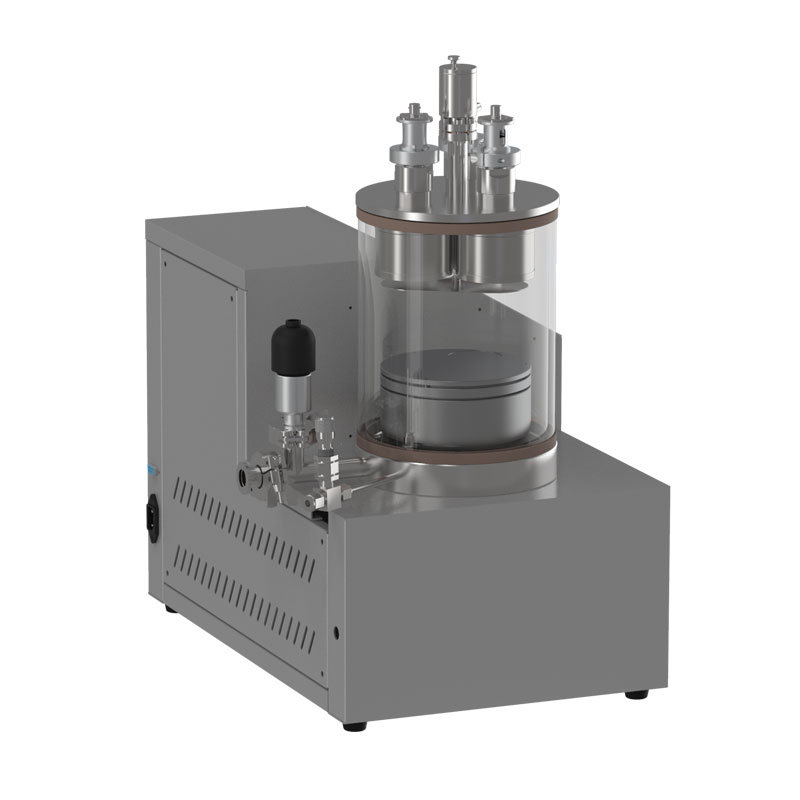 Founded in 2005, Zhengzhou CY Scientific Instrument Co., Ltd. is a company specializing in the development and production of laboratory technology research equipment. The products are mixed, pressed, burned, cut, ground, polished, coated, analytical equipment and related consumables. Products include laboratory sintering equipment, coating equipment and so on. At present, it has been exported to 25 countries and regions such as the United States, Europe, and Southeast Asia, and has been well received by various scientific research units.
We have a mature technology research and development team, the number of technicians is 33, the company has 150 people, more than 500 square meters of office space, the factory covers an area of about 1,500 square meters located in Zhengzhou High-tech Zone Electronic Industrial Park. The products are mainly located in the research market, serving scientific research in the labs of universities and colleges, and can also customize products according to your needs.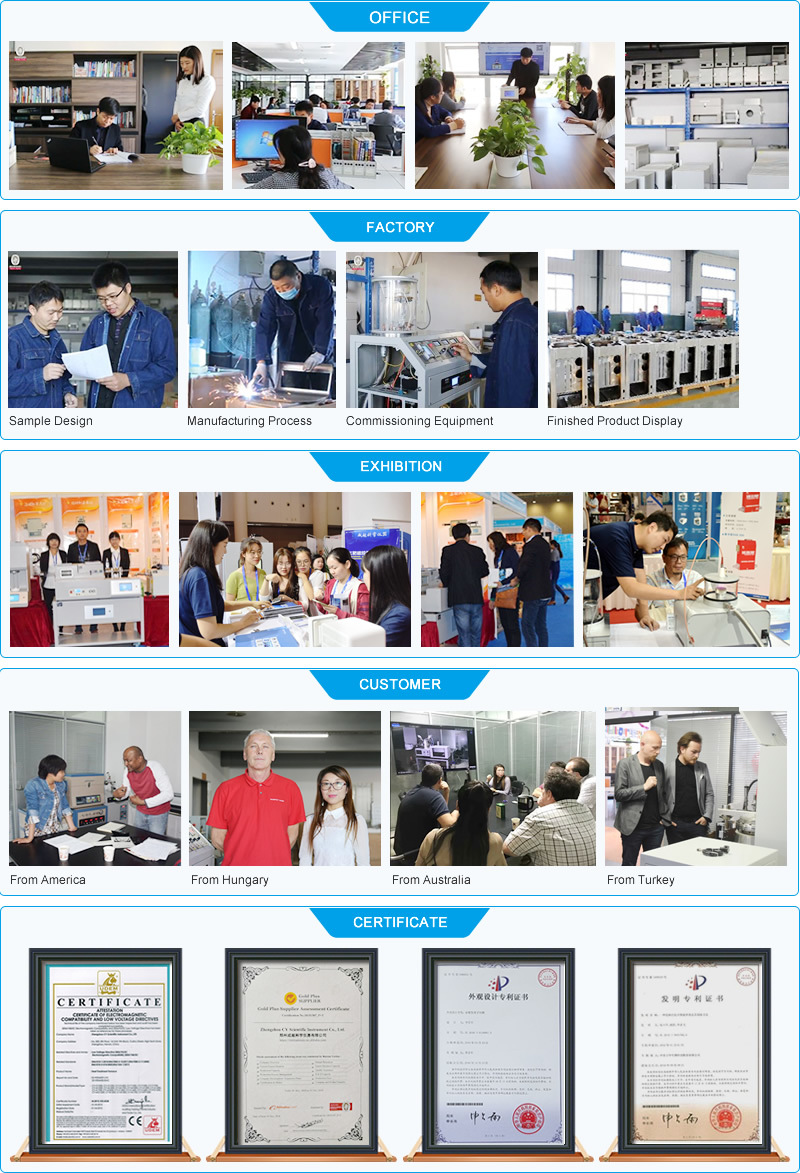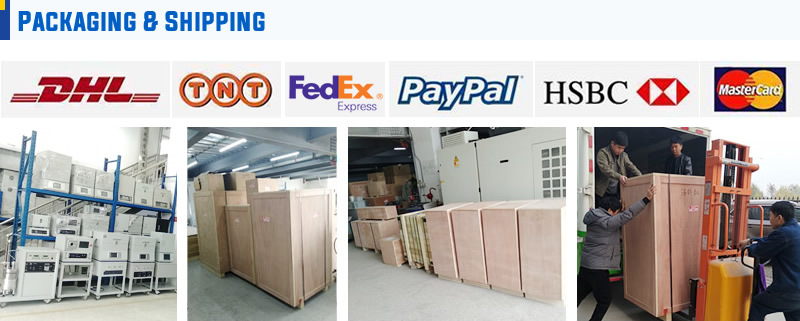 Q. Are you a manufacturer or a trading company?
A. We are professional laboratory instrument manufacturers, have their own design team and factory, have mature technical experience, and can guarantee the quality of products and the optimal price.
Q. How is your company's product after-sales service system?
A. The product warranty period is 12 months, we can provide lifetime maintenance. We have professional pre-sales and after-sales departments that can respond to you within 24 hours to resolve any technical issues.
Q. How long is your delivery time? If I want to customize the instrument, how long does it take?
A.1. If the goods are in stock, it is 5-10 days. 2. We can provide customized services for our customers. It usually takes 30-60 days depending on the specifications of the custom instrument.
Q. Our country's power supply and plug are different. How do you solve it?
A. We can supply a transformer and plug according to your local requirements according to the power plug of different countries.
Q. How to pay?
A.T / T, L / C, D / P, etc., it is recommended to use Alibaba Trade Guarantee.
Q. How is the package of goods? Delivery methods?
A.1. Standard export fumigation sign wooden box packaging 2. Express, air, sea shipping according to customer requirements, find the most suitable way.
More questions, please contact customer service