Introduction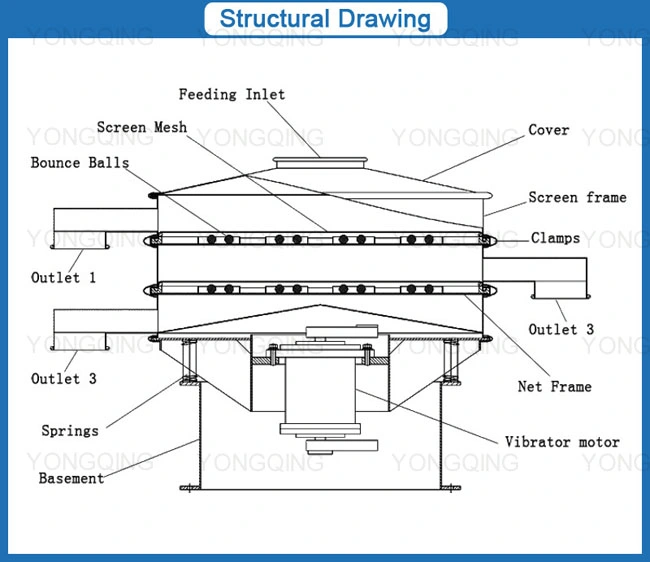 This circular rotary vibrating screen is a kind of high precision sieve filter machine, which uses the vertical vibrating motor as its vibrating source. It can be widely used in any industries needing to sieve and filter powder, particle and liquid, such as milk powder, flour, soybean powder, Medicine powder, cosmetic, quicklime, juice, salt, sugar, sewage, etc.
Principle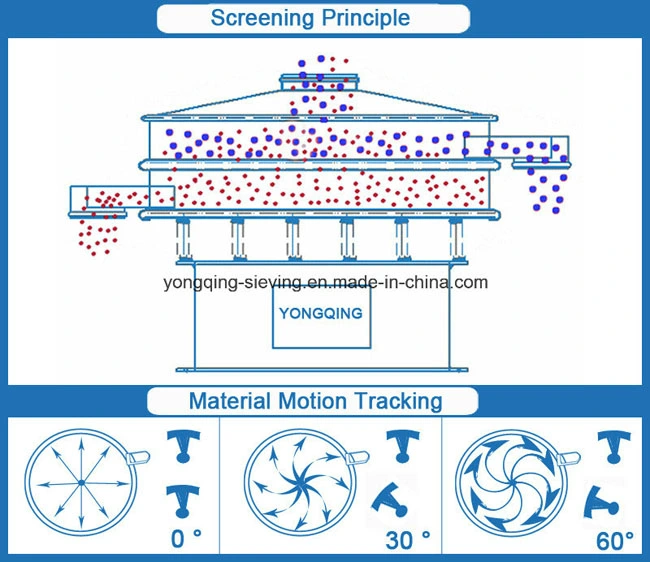 This circular vibrating screen uses horizontal vibration motor or special vibration exciter as its vibration source. The horizontal vibration motor and vibration exciter have a eccentric block at the both their upper and lower sides. By adjusting the phase angles of the upper and lower eccentric blocks, the material on the screen can change the movement locus, achieving suitable screening performance.

Main Feature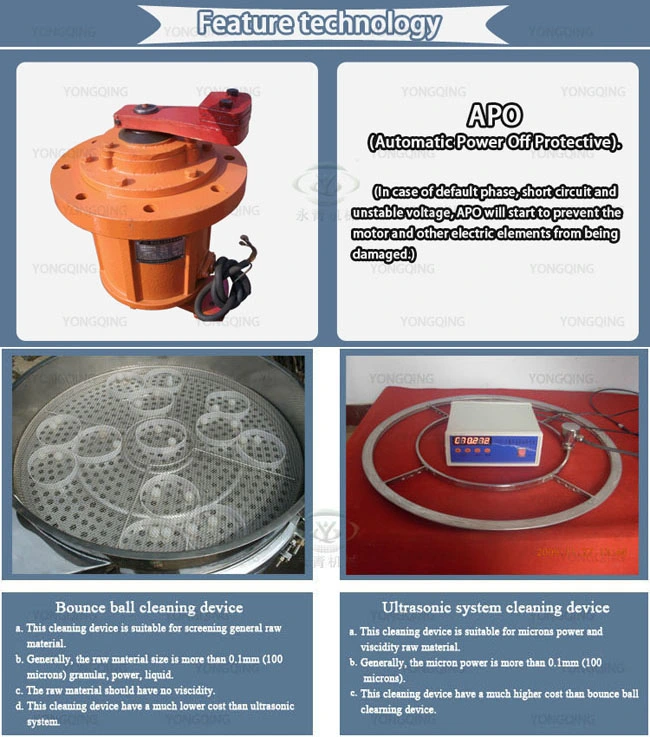 1. The screening precision of our circular vibrating screen is excellent, and the blocking rate of the screen is less than 10% in average.

2. The movement locus and vibration amplitude are both adjustable. Any granular, powdery and serous materials could be roughly screened, or just filtered according to the material applications.

3. The screening machine is 500-2000 mm in diameter, and the overall size is quite small. Wheels can be mounted on it for convenient moving.

4. The screen frame of the circular vibrating screen is specially designed. It takes only 5-10 min for the screen changing. The stainless steel wire woven net is easy to clean and operate, while the life span is quite long.

5. Completely enclosed structure is adopted so the particulate matter pollution in the air is quite limited.

6. The discharging outlet can be rotated at 360 degree, facilitating the installation of matching equipment.

7. The energy consumption of our circular vibrating screen is small, while the noise could reach as low as 73-80 dB.

8. During the operation, if short circuit, phase loss or unstable voltage occurred, the motor will automatically cut off the power supply and stop working to make sure the motor will be not burnt out. Thus the electric element's damage can be reduced to an extremely low level.

9. The protective grade of the motor comply with IP65, which means it is dustproof and waterproof. Besides, it is also heatproof and oil proof.

Application&Details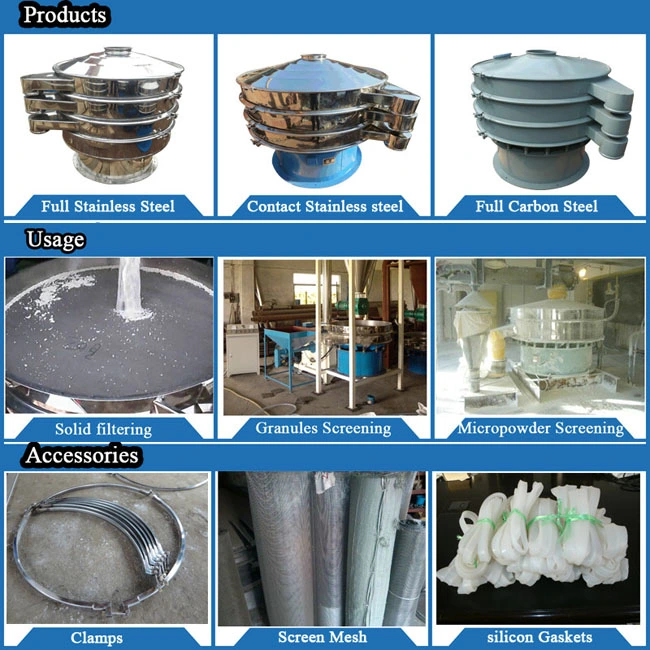 1. Food industry
Our circular vibrating screen can be used for processing starch powder, sugar powder, sale, rice flour, milk power, soybean mile, sauce, fruit juice, condiment, and so on.

2. Chemical industry
This rotary vibrating sieve is widely used for handling resin powder, paint, industrial chemicals, detergent powder, cosmetic, Chinese medicine powder.

3. Metallurgy industry
In metal processing industry, this linear vibrating screen can sift aluminum powder, lead powder, copper powder, alloy metal powder, electrode powder, manganese dioxide powder, electrolytic copper powder, abrasive powder, High temperature resistant material, kaolin, limestone, dolomite, alumina, calcium carbonate, quartz sand and so on.

4. Pollution abatement
Our circular vibrating screen is also suitable for treating waste oil, sewage, accessory ingredient, activated carbon.

Main Technical Parameters
Model

XZS-
500
XZS-
600
XZS-
800
XZS-
1000
XZS-
1200
XZS-
1500
XZS-
1800
XZS-
2000

Diameter(mm)

500

600

800

970

1170

1470

1770

1970

Layer

1-5

Mesh size(mm)

0.025-20

Rated speed(rpm)

1440

Power (kw)

0.12

0.18

0.36

0.5

1.1

1.1

1.5

1.5

Package&Service&Certificate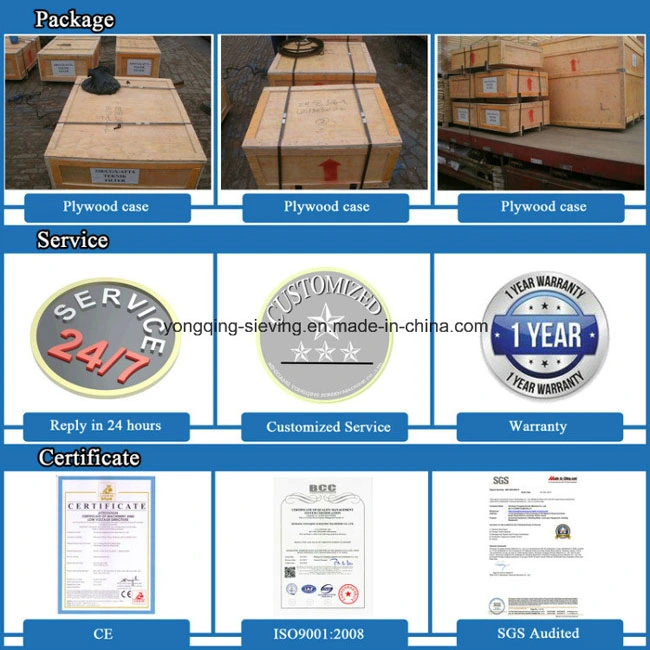 Packing:Outer packing is plywood case, which is up to the international standard. Inner packing is moisture-proof and water-proof membrane. All of packages are wrapped by 0.5mm steel belt to further strengthen, which can ensure machine safe during shipping.

Shipment: 3 working days after receiving your deposit.

Service:1. Special design offered. 2.Buyer label paste offered. 3.Sample testing support. 4.View our Factory 5.One year warranty. 6. Three years extended warranty.
7. 24 hours inquiry and consulting support. 8. Training how to instal and use the machine.
Main Products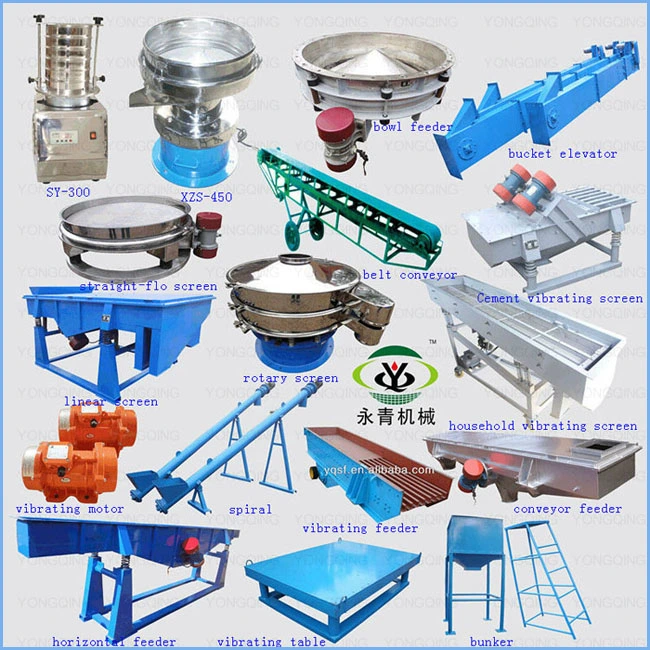 FAQ:
Please provide the follow information for a suitable machine:
1. material name, the density, water content(%).
2. the necessary capacity you required (per hour).
3. Machine material. Pls choose one:
a. SUS 304 or SUS316
b. All carbon steel 235 A
c. The contacting part is SUS304, the other parts is carbon steel.
4. the layer you need (1--5).
5. Additional parts ,like the mobil wheel, removing-dust hole and noise-proof base,can be easily fixed and maintained.
All of your information (email, Tel, Fax, etc) will be not published without permission.