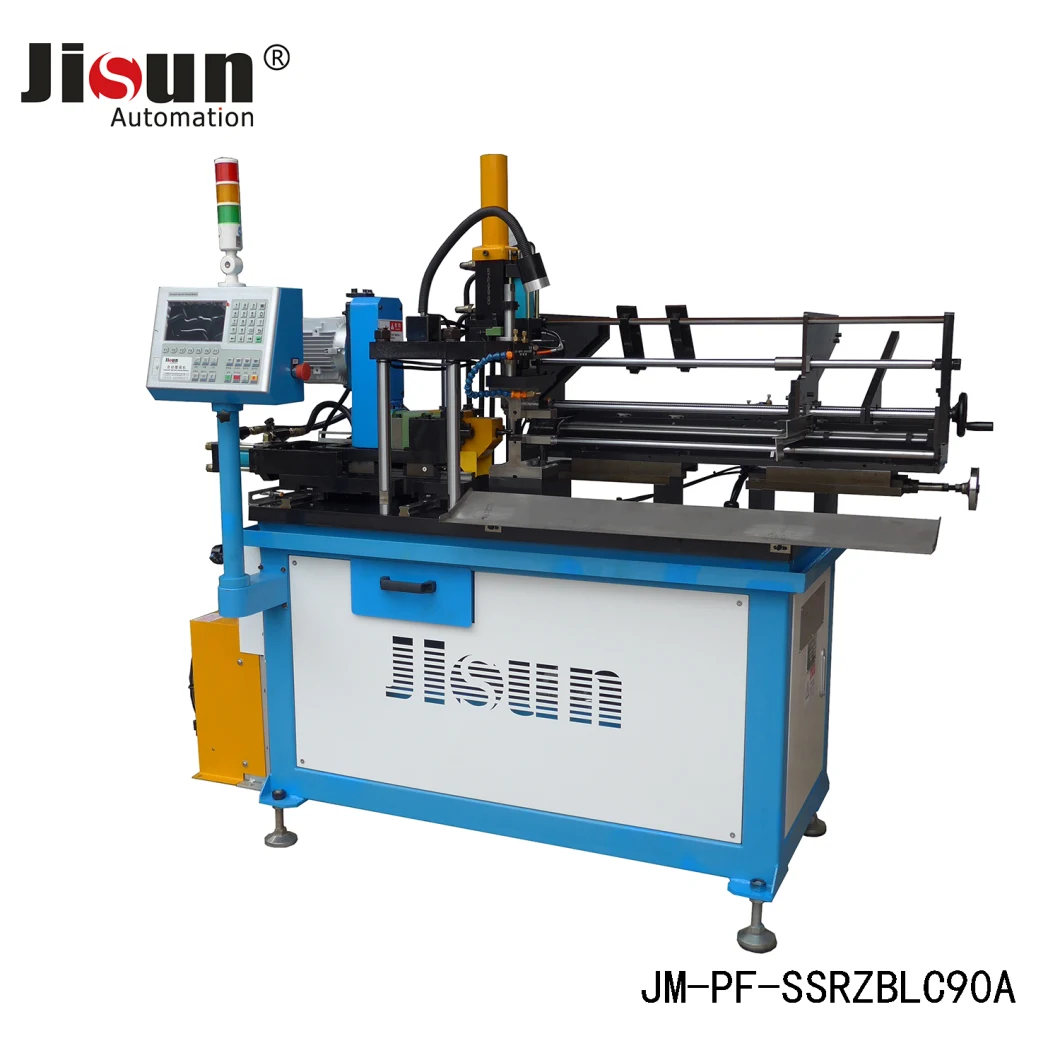 Use
This equipment is suitable for forming processing such as necking, flaring, chamfering, and pressure divergence of copper pipe nozzles. Equipped with three stations, the hydraulic feed and the punch conversion between stations are completed by servo motors.
Features
Using hydraulic, pneumatic and electrical control systems, fully considering safety and other factors, easy debugging and simple operation, which can fully meet the production of refrigeration pipe products

.

The equipment control system has an automatic counting function, which can accurately count the processing quantity.

The equipment has the function of tempo pause or continuous processing, and can be selected and changed.

With automatic alarm function, when the device fails during operation, it will alarm.

When changing products, mold replacement is convenient, fast and accurate positioning.
E
quipment
parameters
NO.

Parameter items

C

ontent

1

P

ipe diameter

range

Φ

5

-

16

mm

2

Pipe

thickness

range

0.5-1.0mm

3

Pipe

length range

60

-

88

0mm

4

Work efficiency

3

00-

4

50PCS/H

5

Depth error

≤0.25mm

6

Coaxiality error

≤0.08mm

7

Number of stations

2 cold punches + 1 spin

8

clamping method (Oil tank bore * stroke)

40*40mm

9

Feed mode of punch (Oil tank bore * stroke)

50*50mm

10

Pressure branch clamping method (

Oil tank bore * stroke)

40 * 75mm (adjustable 35)

11

Drive method

Hydraulic / servo / pneumatic

12

Feeding method

Auto feeding

13

Operation method

Auto / Manual / Jog

14

Electric control mode

CNC system

15

air pressure

0.5~0.8MPa

16

Hydraulic pressure

4-6MPa

17

Power mode

Three phase380V/50HZ

18

Overall dimensions (length X width X height) MM

1600x800x1600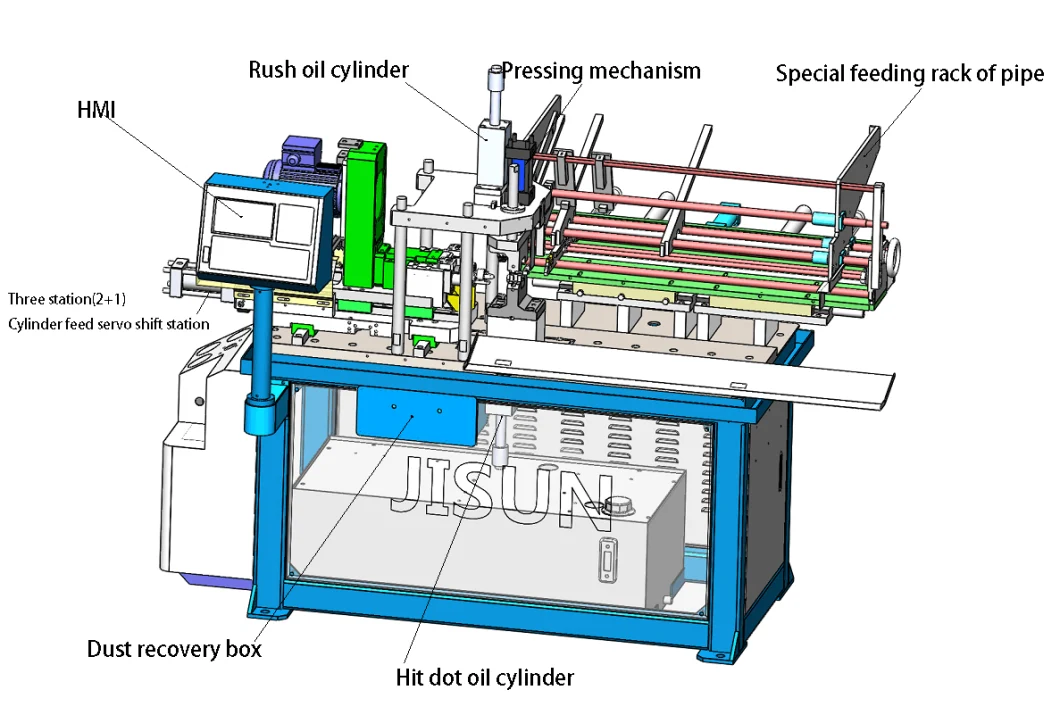 Equipment structure and system configuration
Overview:

The equipment consists of a frame, an air control system, a hydraulic system, a servo system, and an electronic control system.etc.

Frame:

The fuselage is welded by profiles, and processed after vibration aging to ensure rigidity and accuracy of the mounting plane. It is equipped with four height-adjustable foot cups and safety protection doors;The parts of each part of the equipment are subjected to necessary surface treatments such as electroplating, blackening, quenching, carburizing, electrostatic spraying, etc. according to the actual working conditions and working environment to meet the components with sufficient strength and surface functions.

Air control system:

The compressed gas from an external source is purified by a precision water-gas separator. The pressure can be adjusted to provide a good gas environment for each circuit component. The precise position of the cylinder piston is controlled by the electric valve body. Pneumatic components ensure the sensitivity and stability of various actions during long-term use.

Hydraulic system:

The integral oil tank is equipped with an air cooling system to ensure that the system oil temperature is not greater than 55 ° C. This equipment uses a variable displacement pump and the oil circuit uses an energy-saving design. The main directional valve and oil pump are made of high quality products. And slow forward two groups, the speed can be adjusted separately.

servo system:

The servo motor and driver are used, and the feed shaft is precisely driven by imported screw rods with high wear resistance, and the vibration is small.

Coloring:

The main body of the device is blue (J

isun

color number JS-SK-003), and warning signs are placed on the parts involved in personal safety.

Electric control cabinet:

Using the CNC system, the air switch adopts domestic high-quality air switch, Schneider button, and other main electrical components such as select switches and intermediate relays are all OMRON products. The control circuit is provided with overload protection function.

The installation of the electrical components of the equipment complies with the relevant national regulations and has a reliable grounding device. The terminals, contactors and small air switches in the electrical box are installed in the VDE standard V-groove. Each electrical component is clearly marked. The electric control cabinet uses all-plastic combing cabinets with wire trunking for clear wire numbers; the control panel is clean and the subtitles on the signs are clear and easy to see.
List of main parts and maintenance
List of main accessories
NO.

N

ame

Quantity

Brand

1

CNC system

1 set

JISUN

2

Proximity switch

1 batch

YM

3

AC contactor

1 piece

TAIAN

4

T

hermal relay

1 piece

TAIAN

5

Switching power supply

1 piece

MW

6

A

ir switch

1 piece

CHINT

7

Pneumatic Components

1 batch

AIRTAC

8

Hydraulic pump

1 piece

J

UN

TAI

9

Hydraulic motor

1 piece

J

UN

TAI

10

Hydraulic accessories

1 batch

RISEN

11

Guide screw

1 batch

TBI

12

Three-phase asynchronous motor

1 piece

GUANGZHOU MICROMOTOR

13

Servo motor

1 set

DELTA

14

Boring head

1 set

HUNKUN
Check the air / oil pressure and the condition of each fastener daily to ensure reliable use.

Regularly lubricate moving parts and keep the equipment tidy.

Clean the dust of the equipment regularly to avoid affecting the operation and product quality.

The normal working time of the equipment is calculated from 8-10 hours per day. If the working time is longer due to production, the inspection and update of wearing parts, motors and other accessories should be strengthened to ensure the stability of the equipment.
Delivery period
45
days after the prepayment.
P
ayment method
L/C or T/T
Services and other
Product quality warranty for one year, (except for artificial or abnormal use) wearing parts are not included in the warranty scope. For details, please refer to the "wearing parts list" in the instruction manual.

You are very welcome to visit our factory to see our machine how to work before you place an order with us.

This product is delivered randomly: a manual and a set of molds (if other specifications are required, the cost will be quoted separately).

If customer have any question about operation when using our machine,we will reply you by email/telephone/other online chat tool within 24 hours.

The buyer needs to provide power voltage, compressed air gas source and grounding devices in accordance with electrical specifications on the site of the manufacturer's workshop; the buyer must configure the cables and air pipes connected to the equipment.

The circulating cooling water, hydraulic oil (recommended to use 46 brand hydraulic oil), lubricating oil and cooling oil required by the equipment are purchased by the purchaser.