BS5467 Armored Power Cable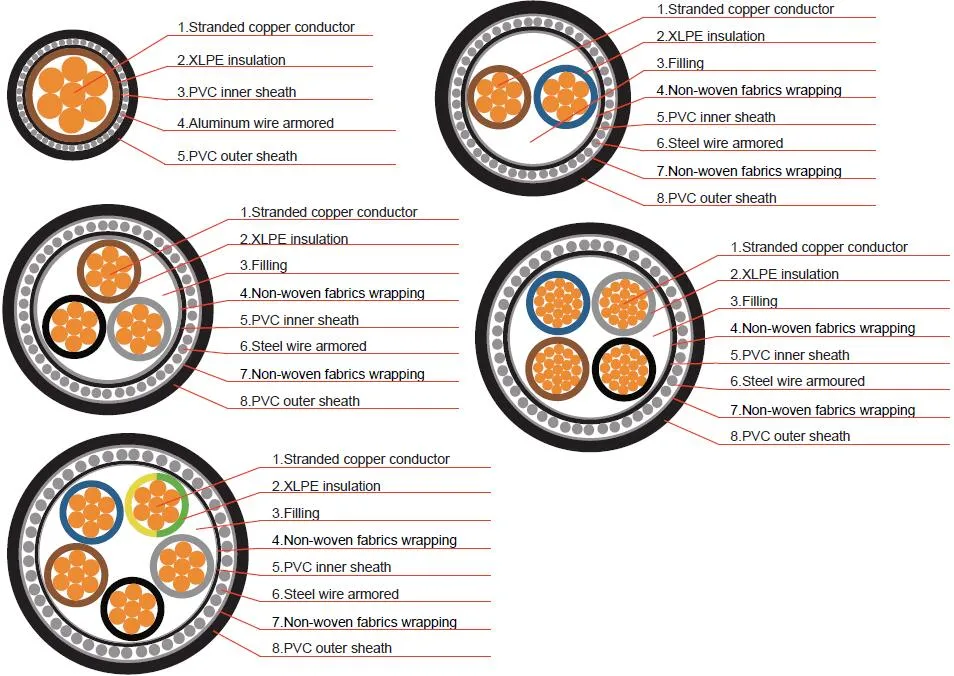 Product Description
Purpose:
-Low voltage SWA mains cables, XLPE cable is ideal for indoor and outdoor applications, the steel wired
armour provides mechanical protection and suitability to be installed indoor or outdoor, through cable ducts and
underground.
-The cable consists of stranded plain annealed copper conductors, XLPE insulation, PVC bedding, Galvanised
steel wire armour and black PVC outer sheath.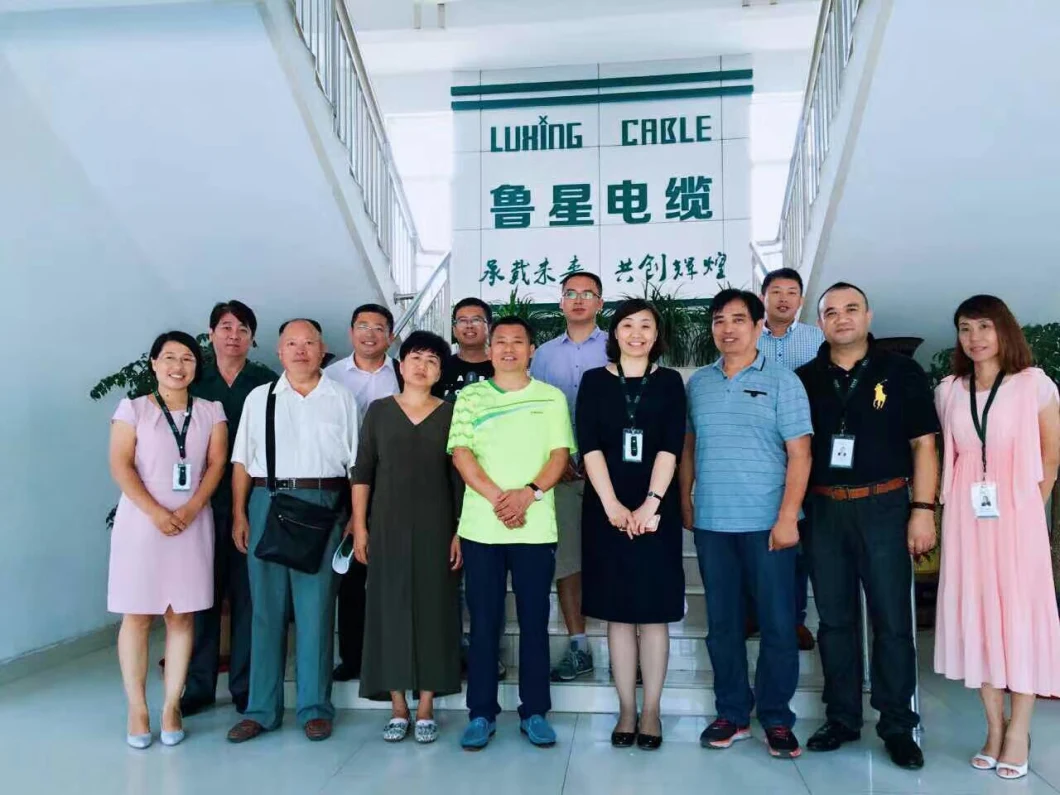 Standards: BS5467
Flame propagation: BS EN 60332-3
Conductor: Stranded Plain Annealed Copper Conductors
Insulation: XLPE
Bedding: PVC
Armouring: Galvanised Steel Wire Armour
Sheath: PVC
Sheath Colour: Black
Voltage Rating: 600/1000 Volts
Temperature Rating: -15°C to +90°C
Minimum Bending Radius: 8 x overall diameter
Should not be installed at temperatures below 0°C or above +60°C
For more information please consult a member of the Cleveland Cable Sales Team.
Core Identification:
1 Core: Brown
2 Cores: Brown, Blue
3 Cores: Brown, Black, Grey
4 Cores: Blue, Brown, Black, Grey;
5 Cores: Green/Yellow, Blue, Brown, Black, Grey
Alternative core identification: White Cores with Black numbers
PVC Insulated and PVC sheathed Single Core and Multi Core Cables

Nominal




Area(mm²)




Category

Insulate




thickness




(mm)

Coat




thickness(mm)

Biggest




Diameter




(mm)

Approx.




weight




of cable

Least




insulates




resistance




(MΩ·km)

D.C.resistance




Of conductor




20°C

(kg/km)

(Ω/km)

1x1.5




1

0.7

0.8

4.38

33.2

0.011

12.1

2

0.7

0.8

4.56

35.9

0.010

12.1

5

0.7

0.8

4.8

36.1

0.010

12.1

1x2.5

1

0.8

0.8

5.1

47.5

0.010

7.41

2

0.8

0.8

5.3

50.5

0.009

7.41

5

0.8

0.8

5.4

50.6

0.009

7.41

1x4

1

0.8

0.9

5.7

67.7

0.0085

4.61

2

0.8

0.9

6.0

72.0

0.0077

4.61

5

0.8

0.9

6.0

72.6

0.0077

4.61

1x6

1

0.8

0.9

5.2

88.8

0.0070

3.08

2

0.8

0.9

6.7

96.4

0.0065

3.08

5

0.8

0.9

7.0

100.4

0.0070

3.08

1x10

1

1.0

0.9

7.3

138.9

0.0070

1.83

2

1.0

0.9

7.9

146.9

0.0065

1.83

5

1.0

0.9

7.6

160.1

0.0065

1.83

1x16

2

1.0

1.0

9.1

218.3

0.0052

1.15

5

1.0

1.0

10.8

230

0.0052

1.15

2x1.5

1

0.7

1.2

8.3

38.9

0.011

12.1

2

0.7

1.2

8.7

41.0

0.010

12.1

2x2.5

1

0.8

1.2

9.6

45.9

0.010

7.41

2

0.8

1.2

10.1

48.6

0.009

7.41

2x4

1

0.8

1.2

10.5

50.9

0.0085

4.61

2

0.8

1.2

11.2

54.6

0.0077

4.61

2x6

1

0.8

1.2

11.5

56.3

0.0070

3.08

2

0.8

1.2

12.3

60.6

0.0065

3.08

2x10

1

1.0

1.4

14.4

82.9

0.0070

1.83

2

1.0

1.4

15.3

91.8

0.0065

1.83

2x16

1

1.0

1.4

17.4

102.0

0.0052

1.15

3x1.5

1

0.7

1.2

8.8

41.5

0.011

12.1

2

0.7

1.2

9.2

43.7

0.010

12.1

3x2.5

1

0.8

1.2

10.1

48.6

0.010

7.41

2

0.8

1.2

10.6

51.4

0.009

7.41

3x4

1

0.8

1.2

11.1

54.1

0.0085

4.61

2

0.8

1.2

11.8

57.9

0.0077

4.61

3x6

1

0.8

1.4

12.6

71.4

0.0070

3.08

2

0.8

1.4

13.4

76.5

0.0065

3.08

3x10

1

1.0

1.4

15.2

88.0

0.0070

1.83

2

1.0

1.4

16.3

95.0

0.0065

1.83

3x16

2

1.0

1.4

18.5

109.0

0.0052

1.15

4x1.5

1

0.7

1.2

9.5

45.3

0.011

12.1

2

0.7

1.2

10.0

48.1

0.010

12.1

4x2.5

1

0.8

1.2

11.0

53.5

0.010

7.41

2

0.8

1.2

11.6

56.8

0.009

7.41

4x4

1

0.8

1.4

12.2

68.8

0.0085

4.61

2

0.8

1.4

12.5

70.8

0.0077

4.61

4x6

1

0.8

1.4

13.7

78.4

0.0070

3.08

2

0.8

1.4

14.7

84.8

0.0065

3.08

4x10

1

1.0

1.4

16.7

97.5

0.0070

1.83

2

1.0

1.4

17.8

104.5

0.0065

1.83

4x16

2

1.0

1.4

20.4

121.1

0.0052

1.15

5x1.5

1

0.7

1.2

10.3

49.7

0.011

12.1

2

0.7

1.2

10.8

52.5

0.010

12.1

5x2.5

1

0.8

1.2

11.3

55.2

0.010

7.41

2

0.8

1.2

12.7

62.8

0.009

7.41

5x4

1

0.8

1.4

13.7

78.4

0.0085

4.61

2

0.8

1.4

14.5

83.5

0.0077

4.61

5x6

1

0.8

1.4

15.0

86.7

0.0070

3.08

2

0.8

1.4

16.1

93.7

0.0065

3.08

5x10

1

1.0

1.4

18.3

107.7

0.0070

1.83

2

1.0

1.4

19.6

116.0

0.0065

1.83

5x16

2

1.0

1.6

22.9

155.2

0.0052

1.15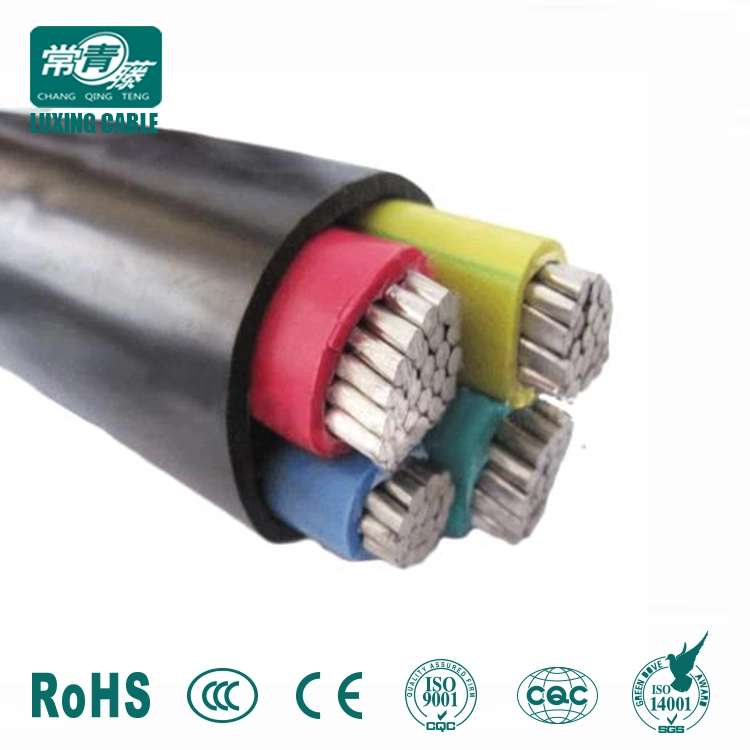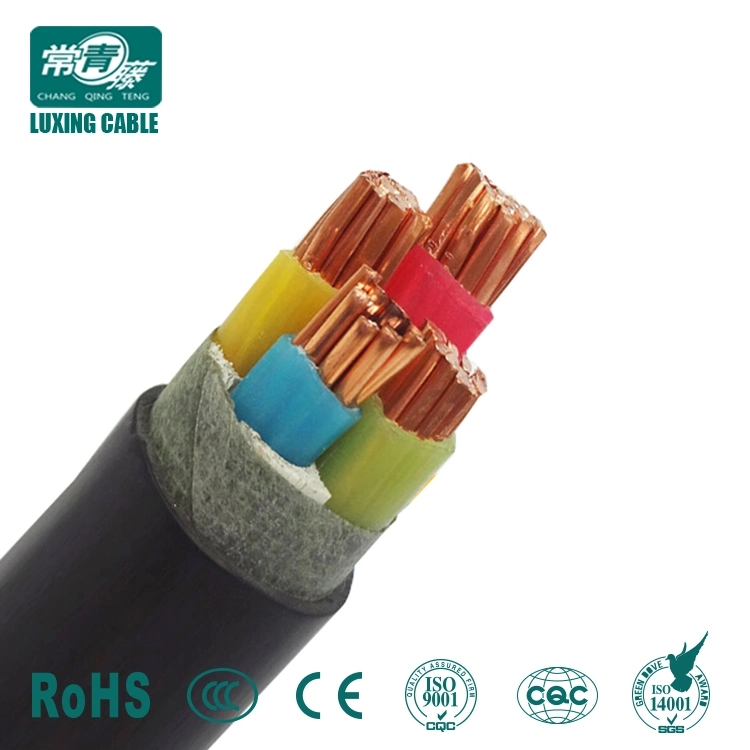 Packing